Members of the laboratory participated in the 16th Conference on Typology and Grammar for Young Scholars
The Conference on Typology and Grammar for Young Scholars is held annually by the Institute for Linguistic Studies, Russian Academy of Sciences in Saint Petersburg. Its participants are young researchers (35 years old and younger) working in any area of linguistic typology, grammar or phonology. 
This year the conference lasted for three days, from November 21 to 23, and members of the laboratory Polina Nasledskova, Anna Klezovich, Nikita Muravyev and Elena Sokur were present there. Research assistants of the laboratory Polina Nasledskova and Anna Klezovich gave talks on their research topics and shared their impressions.
Polina Nasledskova made a presentation about the sources of East Caucasian denominal postpositions based on her field data from the Rutul language.
It was the third time I visited the Young Scholars conference, and every year it becomes better and better. This time there were a lot of interesting talks, but I was especially pleased with the active discussions after each presentation. The audience asked a lot of substantial questions, and it was clear that everybody listened to the talks very carefully.
Polina Nasledskova
Linguistic Convergence Laboratory: Research Assistant
Another talk about Rutul was presented by a member of the Research and Study Group «The Rutul Language in Typological Perspective» Timofey Mukhin, whose topic was «Additive and coordinating clitics in Rutul».
Anna Klezovich told the audience about phonemic handshapes inventory in Russian Sign Language, which she studied in the Research and Study Group «Modality Effects in the Syntax of Russian Sign Language».
It was the first conference for young typologists that I attended, because usually sign linguistics is underrepresented there, and it is mostly devoted to languages of Russia. Despite the fact that it was an unusual academic environment for me, the conference turned out to be very fruitful. For example, I was impressed by some presentations given by second year students almost right after their first expeditions. Furthermore, some of the presentations involved huge datasets of languages, e.g. in the presentation about tropative. All in all, I learned a lot from my colleagues. In addition to that, what makes this conference special is the amount of time devoted to questions after presentations. Having this friendly cozy atmosphere, you can have a very productive discussion and get a lot of feedback on your research.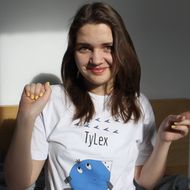 Anna Klezovich
Linguistic Convergence Laboratory: Research Assistant